Hi All,
I have been a fairly long time reader, not much in the posting department, because I still feel like I'm on a steep learning curve.
We are currently renovating and have demolished the kitchen and other 'vital' areas, but are close to plastering up and really getting to the nitty gritty of more intricate design.
I have had my building designer draft in a coffee nook in the corner of my kitchen and the plan is to have a cafe-style window, with bench leading out on to the side deck. I am now in the stage of planning where to put things, like my coffee machine, grinder, shelves, cupboards etc. The bench will be recycled messmate timber and it will seamlessly lead out as a sitting area on the deck with the window closing down onto the bench. Window will be a gas strut style 'pivot-up' if you get the drift. The framing for the area/window: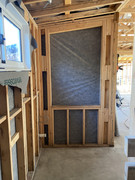 I have found this as a basic design: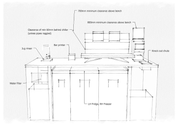 I have a Compak grinder and Lelit PL60 machine and quite like this layout.
I plan to have small 'floating' shelves beside the window and on the wall at the left.
The kitchen fridge will be directly behind where I will stand to make coffee, so little need for a separate bar-fridge, so cupboard space underneath.
Still trying to decide on sink type. As you can see, there's a drain point and both hot/cold water. Jug rinser or proper (small) sink..or can I have both...?
Thanks for having a look and commenting....... really looking forward to getting my coffee machine out of the front passageway.... ;-)
Cheers,
Mark