I've put this together mainly to be used as a rough guide by newbie roasters and others, so they can see what happens during a roast. I hope this helps someone at least, so it can be seen what to expect from a visual point of view while roasting.
Another reason for this is that as far as I can see it hasn't been done before. It may have, but I can't find it anywhere. Sweet Maria's website features pictures of different roast degrees, but is presented differently to this version. See http://sweetmarias.com/roasting-VisualGuideV2.html
Smells can only be described of course and matching the smell of the smoke to the roast progress can only really be gained after doing many a roast as the more experienced roasters here know …...
The other day after modifying/fixing the Breadmaker as per http://coffeesnobs.com.au/YaBB.pl?num=1158893099/0 thread, I naturally decided to test it.
During the test a lot of photos were taken to check that everything was going okay. In between taking photos many details were taken of temperature vs time, and what stage the roast was at. Pretty standard manual data logging Id say.
Afterwards the photos were edited to best show their true colours and matched to the records taken to provide a pictorial record of a standard roast. A few of the photos did not match perfectly the actual colours of the roast due to difficult lighting.
Hopefully this will be of interest to newbie roasters to see just what goes on during a roast. This is where the Breadmaker roasting method excels - being able to see and hear what is going on during the whole process, and adjust it accordingly. Temperatures noted are of course dependant on where the probe was during the roast and are a rough guide only. The probe was just above the beans on the other side of the BM bowl to the Heat Gun.
For the record the 400 gram blend used was:-
Mexican Chulita 200 grams
Indonesian Arabica Linton 100 grams
Timor Organic 100 grams
Green beans at 0 minutes, all set to go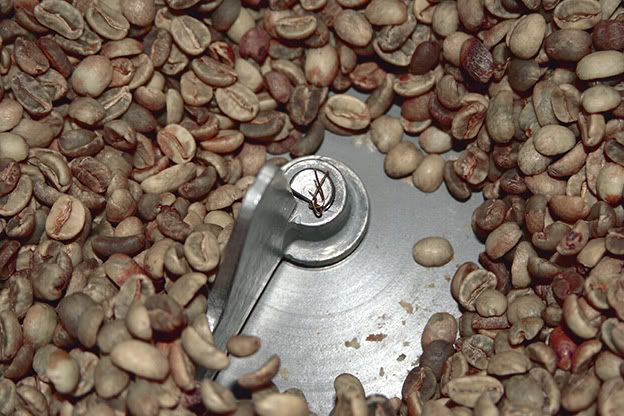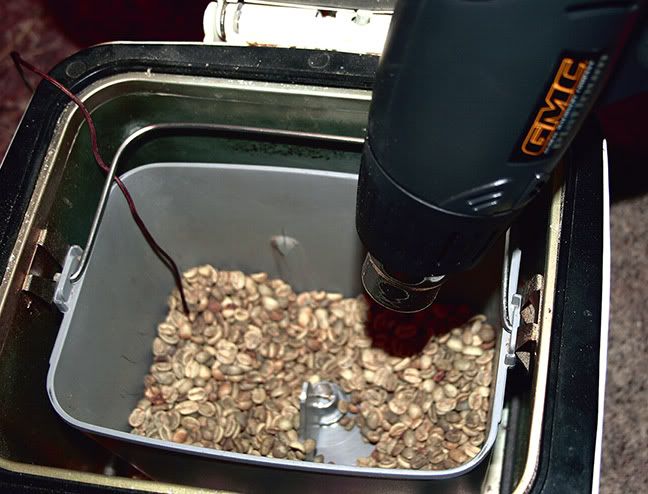 At 5 minutes approx 155 C. Now the beans start to smell 'toasty' (for want of a better description).
At 9 minutes approx 190 C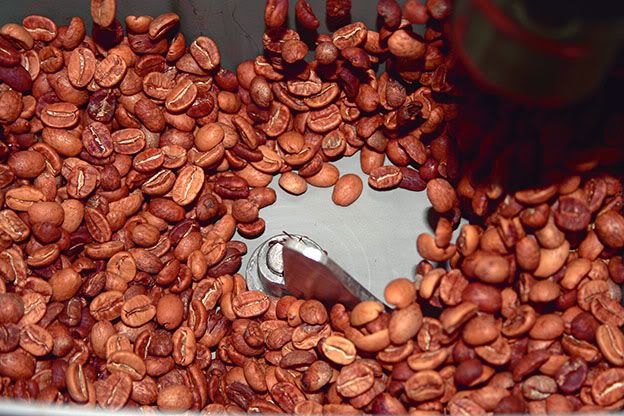 At 10 minutes, just prior to First Crack, approx 200 C. Smoke can be smelt now.
At 12 minutes and well into a rolling First Crack, approx 210 C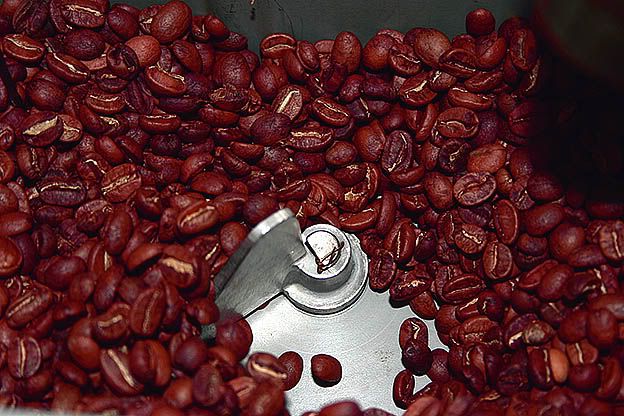 At 13 minutes, end of First Crack, approx 200 C, heat backed off now to a low speed Heat Gun setting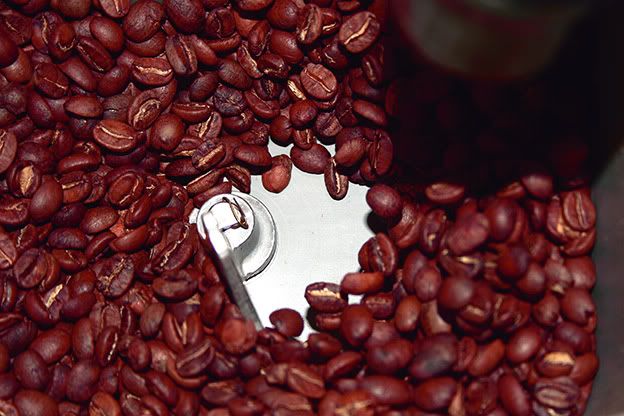 At 14 minutes, just prior to onset of Second Crack, approx 225 C
At 15 minutes, at start of Second Crack, approx 225 C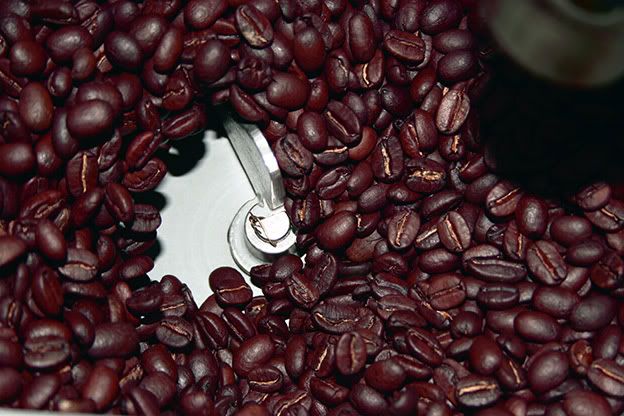 At 17 minutes, well into a rolling Second Crack, approx 220 C. Strong smell of smoke now.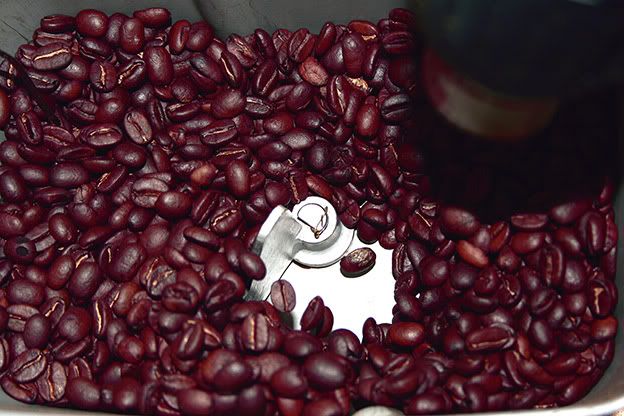 At 19 minutes, Second Crack is still popping away, mainly as this is a 3 bean type roast. The average single type roast would have finished by now.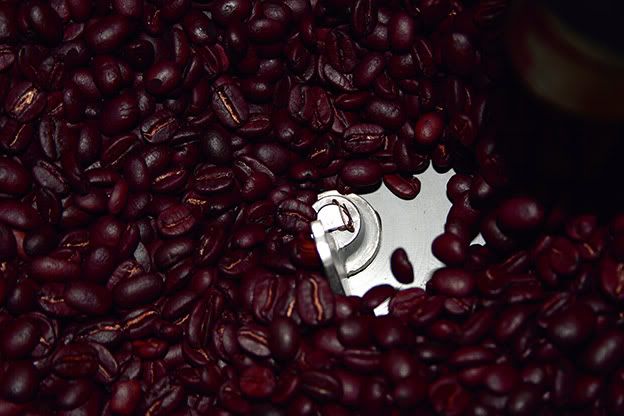 At 20 minutes, just prior to dumping into the cooler, approx 220C still.
All cooled and ready to degas, back to room temperature :-) The smokey smell has gone and the beans smell is pure heaven!! Nothing beats the smell of freshly roasted coffee beans ;-)
Now I'm not saying this is the perfect roast, because it wasn't. But it went very smoothly and most importantly tasted pretty damn good in the cup ;-)
For the full set of photos, although not quite in order, but you can see by the photo numbers, go to http://s89.photobucket.com/albums/k207/fluffOball/Roast%2019-9-06/?start=0
Belinda