THIS IS NOW OUTDATED
Please see HeatSnob for the current information
http://coffeesnobs.com.au/home-roast...tml#post564488
-- October 2015.
__________________________________________________ _________
USB Temperature Data Logger
The world famous CoffeeSnobs Digital Multimeter (DMM) with twisty cord thermocouple, bead thermocouple and computer USB connection is here.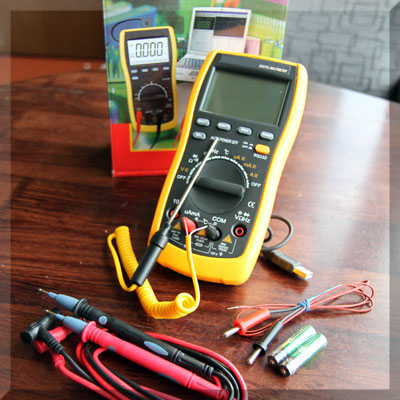 This meter and software has been installed on 100s of different PCs all over the planet and everyone I have spoken with are getting much better results using this for roasting feedback.
Tested as working well on:
Win98SE
Windows XP Pro
Windows XP Home
Vista Business
Windows 7 (32bit)
Windows 7 (64 bit, need to install Java 64bit)
Windows 8
Windows 10
Mac? Im told that it works fine using Parallels for Mac.
(We still suggest you are better off getting a low-end PC which will run this fine)
Not working well on:
VMware (suffers from disconnections during the roast)
Linux. Sorry, but I doubt it will run on Linux until Sun Java gets a working USB library for Linux, Mac and Windows.
You can scrounge an old PC for next to nothing these days. *The hardware requirements of the software is very low and it will run on just about any Windows PC with a USB port. *Finding an old notebook (with 1024px resolution) is often a great way to use this roasting tool.
This is a true plug and play hardware device, Windows automagically loads its own driver for it and it appears in Device Manager as a HID without mucking about with serial device driver files and having to know baud rates and com ports.
Where to buy?
The USB Temperature Datalogger is available in BeanBay "Other Stuff" now.
----removed link----
Software Download
You can get the Roast Monitor software
V2.46
(October 2013)
(RoastMonitorUSB.exe - 335Kb) for this meter from:
----removed link----
After downloading, run the installer and follow the simple prompts.
The installer will:
* Place a Roast Monitor icon on your desktop
* Install into Program Files (x86)
* Saved profiles, logs and preferences will be under Documents/CoffeeSnobs
This will make future updates cleaner and easier, leaving the previous profiles and settings and only updating the program.
Roast Monitor uses Java for the display, if you don't have Java then you need to download it from Oracle (free download):
http://www.java.com/getjava
Most PCs will have .NET already, but if you don't have it installed then grab it from Microsoft (free download):
http://www.microsoft.com/net/Download.aspx
(If you have trouble with .NET v4 then install .NET v.2 update or .NET v3.5 as it appears something is missing from .NET v4 -- blame Microsoft, not us!)

The Full Dot Net v3.5 download is available from:
http://download.microsoft.com/downlo...dotnetfx35.exe
It's ok to install this on a PC with a later .NET only the missing components are installed.
Roast Monitor User Guide
This excellent user guide was put together by CSr GrahamK and should help new users and existing ones get up to speed with the features pretty quickly.
450Kb Word Doc.
http://coffeesnobs.com.au/RoastMonit...User-Guide.zip
Thanks Graham* 8-)
Revision Notes:
Detailed revision notes are included in the download.
Troubleshooting
Nearly every problem reported in the last two years was fixed by downloading and installing current versions of Java and Dot Net (links above).
If the meter is dropping connection to the PC during the roast try without a USB extension cable. *Cheap USB cables or overly long USB extension cables can act as an antenna for electrical noise and cause data streaming errors.
The button marked RS232 needs to be pressed-in so the meter will output data to the USB.
If you plug the probe in the wrong way the meter runs backwards.
This would be a great time to remind people that this software is written for me to use with the commercial roaster at the Snobbery and it has been working perfectly for up to 40 roasts per week, every week of the year for years.

While Im happy to share it with CSrs for free and welcome new ideas please understand that if I cannot see a benefit in a requested feature or think it would hinder my usage then I wont want it in the software.
A template for mounting the stainless thermocouple in the Behmor1600 is below.
Outside of Australia?
We do send these all over the world but BeanBay is only setup for Australian shipping addresses. Instead please send me an email with your shipping address and freight preference and Ill calculate airmail postage (delivery to most countries within 2 weeks) and send you a PayPal invoice.* When its paid we ship it out. Australia Post Airmail service to most countries (without tracking) is about AU$30.* Courier delivery with tracking is generally AU$60+

Please Note: we will clean this thread from time to time and update any new information in this first post to avoid confusion when a new version is released.