Hi guys,
I recently bought a Saeco chic machine for interests sake more than anything. Since I took a very short road up to the commercial Carimali Uno machine Im using at the moment, I felt like playing with some lower end equipment again ( I regret selling my Krups Vivo
). And looking at them from a perspective of greater experience.
Initial impressions: Non-pressurized portafilter! And not a cheap aluminium filter holder either, solid chromed brass!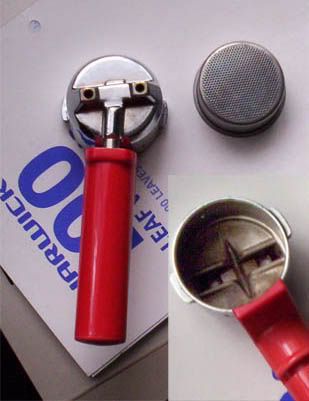 Upon first popping the hood I was pleasantly greeted with a familiar yet unexpected golden glow...
Yes, this machine has a brass boiler! I was actually quite taken by this, I thought all Saecos had stainless boilers. I tested the capacity of the boiler today and it was around 250mL. Obviously in operation it wont be filled to the max. level but this is still impressive for such a small machine. The pump is a standard ULKA, 52W if I recall correctly.
One thing that bugged me was the shape of the group, as you can see in the image below it is concave and fitted with a gasket for brewing pods. I pulled the boiler out to see if this was in any way removable, but sadly it seems to be permanently affixed to the lower half the boiler
Still, after reassembling the machine I managed to pull a somewhat decent shot (was my pressure test) which I stopped just after 23sec. I cycled the boiler prior to pulling without much of a wait so it was a little burnt, but overall not a bad shot.
You dont really get the same tastes coming out of a machine like this (compared with semi/fully commercial machines) but what you can get by all means can be good! (If only Id taken a photo of the crema).
Other points worth noting: the steam power, you can really get pretty decent microfoam with this thing! And I cant ignore the PF sneeze, even after leaving the handle in to steam I got one! These things are messy wee buggers.
Anyways, thats all
Hopefully someone will get something out of this