Hi,
There's been a few mentions about this machine on the forum, and I just thought I would start a thread about it. I purchased on together with a few other forum members, and I've been very impressed so far.
Specs are
-
Lever
professional
group (It's a Bosco lever group 58mm which means parts and group handles are easily sourced)
-
Copper boiler
4.5
lt.
-
Automatic reloading
of the boiler
with
electronic level
probe
- Glass
level
- Lance
anti
burn
steam
- Lance
anti
burn
water
-
Rotary pump
-
Certified
safety valve
-
Automatic shut-off
resistance
-
Automatic shut-off
pump
-
Safety thermostat with
reignition
-
Thermal
protector
pump
-
Steel
cup warmer
-
Manometer
to control the
boiler pressure
-
Water tank
:
3
lt with mains connecting switch and fittings.




- Plumbable drip tray



Here's few photos I took recently of my machine. Sorry about the iDevice photos.


QuickMill Vs Ponte Vecchio Lusso


Front, I've raised my bench now to level with the blue ledge at the back, which has improve useage.


Shiny!


These appear to be machine stainless steel?


Plumbable drip tray, which can be change back to move the machine and switch back to tank.

I had to relearn how to tamp, after getting very lazy with my Ponte Vecchio Lusso's 45mm baskets. I love the wands, because they are cool to touch and the taps only take just over 1 turn to fully open. Steaming tip only has 2 holes which means steaming is a little slower but very controllable. I might try a 3 or 4 hole tip later. It's a great machine to use, very easy, just pull the lever down, and prefuse for 6-10 secs. Then lift the lever and watch that beautiful coffee pour. Shots seem to be around the 40ml size.

Here's a video (my very first). It was very early days with the machine, and I've improved significantly since.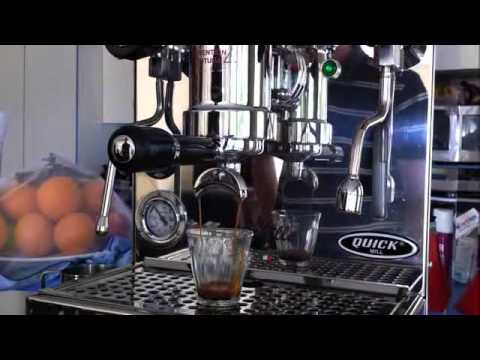 The finish is nice and shiny, but I did have to rub of a few marks around the edges. They looks like residue from the cutting process. It just rubbed off with a cleaning cloth so no biggy.

The only issue I have experienced with the machine is a slightly noisy pump. I think the issue is really that something is touching the case, and causing a vibration but considering it only runs for a few seconds to fill the boiler, I haven't found it a massive issue so far. Heat up times, can be as low as 25mins with a flush to start the thermosyphon, but I've had it on a timer and it's nice and warm at the group handle at 40-45mins anyway.


If your considering a Londinium I, I think you should also have a look at this machine. They both use the same group, a Bosco group.

The machine was purchased from Jack at Sorrentina Coffee, he's a great guy to deal with. I purchased my Ponte Vecchio Lusso from him around 18months ago, and found Jack to be very responsive and helpful. Please contact Jack directly if you are interested in the Quick Mill 0996 Achilles. I'll be happy to answer any questions about the machine should you have any.