Since restoring a Carimali Uno, the old Brasilia hasnt seen a lot of action so I decided it should probably go to a better home.
However when I fired it up about a week ago for testing I found that it had developed a bad seal in the steam valve during its period of inactivity and was leaking out from the knob at the top of the machine! So I decided I might as well give it a complete overhaul :P
One thing that REALLY bugged me with this machine was the steam button, it frustrated me EVERY SINGLE DAY I had to use the machine. It really was a nightmare.
Heres how the steaming process worked:
Upon pressing the button the green LED on the machines front lit up, an outlet valve opened and took some water out of the boiler (into the drip tray) and the element turned on... for about 5 seconds (even if you held the button down). However the Tstat was set SO HIGH that you could actually count on the element to kick in shortly after it cut out (due to the boiler temperature dropping with the release of the pressure) so you could actually steam fairly well if you got lucky and surfed thermostat JUST right.
Obviously this was far from ideal, I had to run extreme cooling flushes and there was never any guarantee what kind of element ON time you were gonna get. You can imagine my ecstasy upgrading to an HX machine after dealing with this multiple times each day.
So I decided I would try fix this steaming issue while I was at it, lest I pass on such a burden to someone else.
First things first I fixed the steam valve, two new o-rings (which I happened to have lying around) and its good.
I also decided to have a go adjusting the thermostat. Facing from the back of the machine, turning the screw (for which theres even a hole drilled into the chasis) anticlockwise lowers the temperature, and clockwise increases it. Based on the amount of steam hiss coming out of the group I set it, and pulled a shot to test if my eyes had done the Tstat justice. The shot was probably the best Ive ever pulled on the machine, the temperature was perfect.
Next, it was time to strip it down and descale it. Since its a plumbed machine a strip-down is basically the only way to descale, and I figured if anyone was ever going to descale this thing.. it would probably have to be me. It took a couple of days of citric acid soaking (with the solution re-heated numerous times via the microwave ;D ) to get the boiler and element looking good, and even then I had to gently scrub the element to remove a bit of residue.
During this time the group and 3-way valve were both soaked in backflushing solution and citric acid (not at the same time of course!)
Here are some after shots, sorry I didnt take any before.. but I will say there was a bit of sediment sludge at the bottom of the boiler I was sure glad to see gone!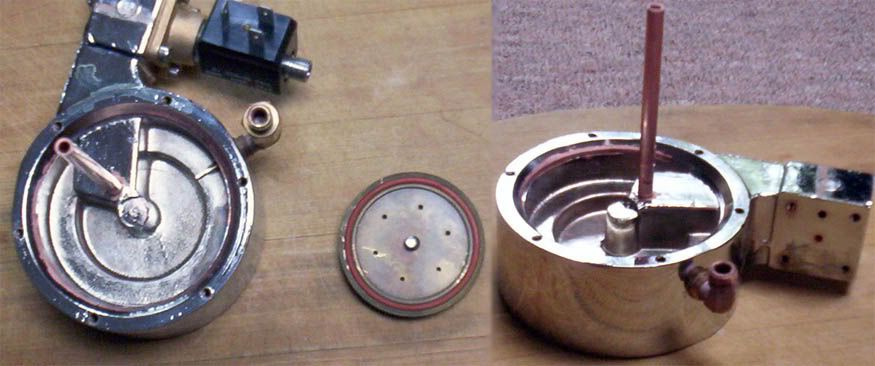 The commercial quality group and brass dispersal plate.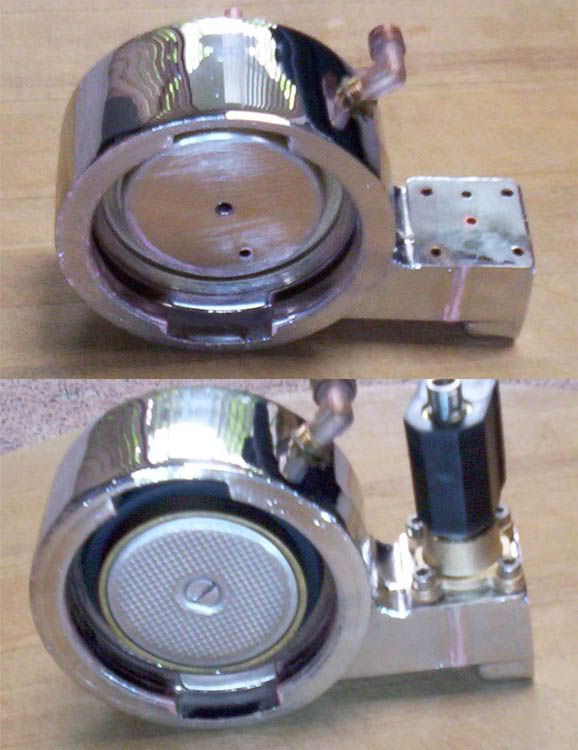 The cleanest this things ever gonna be again
No scale here!
The installed thermostat capillary tube, Im sorry I didnt get a shot of it before putting back in the boiler, and since tightening proved far from easy this was the best I could do.
Now to re-assemble the thing I had to pick up a new boiler gasket and some replacement screws as I tightened one and BROKE off the head.. ouch. Luckily with all the tension gone it came right out and I was able to pick up a replacement (plus a few extras should it happen again) from a local fastener manufacturer. I also chucked a new o-ring onto the (machine) end of the steam wand and a new group gasket went in too.
And on to the steam problem..
Now being an electrical engineering student it didnt take long to draw up a circuit diagram and figure out what was going on. However it was really a nightmare having to pull out and label all SIXTEEN connectors going into the 4 front buttons. Someone had already kindly labelled those going to the control box though!
After a little deliberation I came to the conclusion the best and easiest thing to do would be to bypass the control box entirely, and have the steam buttons switching terminals (2 pins are just to power the LED and dont actually connect) in parallel with the thermostat. Of course this left a redundant outlet valve, disconnected control box, and several loose connections. But the machine is A LOT better for it! Hell if Id done this before getting my Carimali Uno I may not have even bothered to upgrade from this thing! Though I would probably attempt to fit an OPV to stabilise the brew pressure if this were the case.
And to finish, some labelled images showing the re-assembled product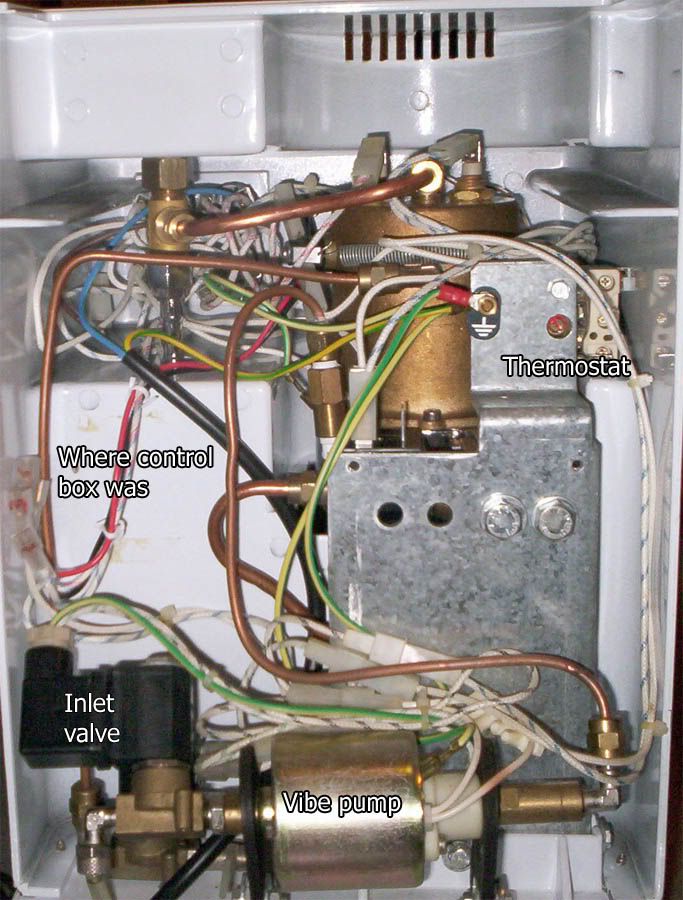 There you have it folks, I hope you enjoyed my writeup
Feel free to reply with any questions!
If you live in New Zealand and would like to buy this machine dont hesitate to email me via my profile.