Hi All
Just contributing back to this forum since its been such a useful resource for me.
I wanted to post my thoughts on the Silvia and also link some videos for those who might be new to the machine.
I had my Silvia for about 3 years now and it has never missed a beat.
It was a pre owned machine which was not used frequently.
I paired it with a Compaq K3T and it has been making great coffee since.
Initially, I temp surfed and made all my coffees in that way for months.
It wasn't difficult and it was something as an art form.
Eventually I added an Auber PID to make things a bit more predictable.
It made the Silvia so much more easy to operate.
Like everyone else, I played around with tamping, distribution, timing etc
If you do the 'best method' of wdt, tamping, levelling etc it would take you about 15min to make one!
I didn't like that as it took away the whole point of a home espresso, which is the coffee itself.
I even watched some of the WBC competitors and noticed that home baristas fiddle a lot more than they do.
So I just stripped it down to a few elements which has worked well for me.
I use the 'chicago chop' because I seem to be more consistent with it, but Ill work it out of my process at some point in the future.
So my thoughts on the Silvia after these years are:
-PID helps greatly but you can live without it
-The Silvia can be unforgiving. I see some grinds and tamps which come out perfect on an e61 but I know will be a watery mess with the Silvia. At least it teaches discipline and good technique.
-Makes a really good espresso. Little miss silvia can churn out some outstanding shots. On average, it will push out shots that are on par as most decent cafes. Dedicated espresso bars still produce shots with better clarity of flavours, but the Silvia with fresh beans is better than all the franchise chains and most cafes where the coffee is an added service, not the main highlight.
-Built tough. I think Ive sat on the machine before and it did not bend at all.
-Steaming is great. Really powerful. Although the power of the steam wavers a bit.
-Making 2 lattes is very quick. 4 is doable if you make 4 double shots first. But any more and you will be hampered by boiler temperatures.
-I wish the internals were larger. Larger tank reservoir, larger boiler, larger drip tray
-Switches on the Silvia are indestructible. They give a very satisfying click when using them.
-Not a Sunbeam or Breville
So if you cant decide on a Silvia, just go for it. You wont be disappointed.
Once you learn the machine, it wont get in the way of the beans youre trying to experience.
Here's some vids I made today with it. By no means 'god shots', but this is the everyday achievable type of shot.
They tasted great, and if I wasn't trying to video everything, you could do it in about half the time. My milk texturing technique could use some work though lol
Anyway, hope this post helps for those who are thinking or maybe recently bought a Silvia.
Silvia making a latte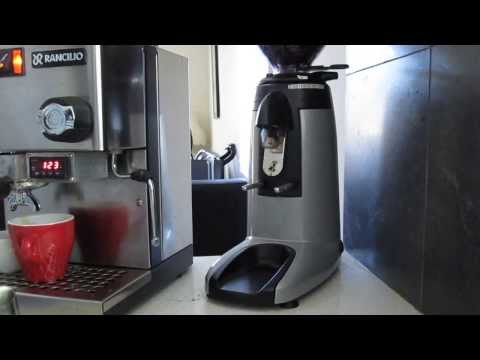 Silvia making Espresso