Ola everyone
As you can see by the number of my posts Im a total newbie here. I already posted my question on the Home-barista site, but I got very little replies, which is probably because 90% of people there use better machines than the Classic. I know theres a rule on HB which says to not cross-post on other forums, but since I got almost no response, I thought it wouldnt be bad to post here
So if anyone from HB is reading this, try to understand a frustrated newb
First of all Id like to introduce myself: my name is Tom, Im from Poland and recently I bought a Gaggia Classic and MDF combo. I know its not amazing, but its the most affordable and pretty good machine here in Poland. I had a small problem with it the day it arrived cause it turned out to have a huge leak inside (the pipe which was going from the pump, was disconnected and the machine pumped water into the inside, onto the cables, boiler and everything else). Fortunatelly it was easy to repair and while doing that I also modded my OPV, to give around 100ml in 30s with the blank basket. After everything was set, I screwed the cover back on and made my first espresso shot ever...
Just to make things clear, I have never tasted good espresso. Sure Ive tasted "espresso" or "expresso" before, or smth which you end up with after 15s of extraction, with no crema and/or taste. So I wasnt even sure what to aim for
After a lot of shots down the sink I got smth like this (double basket):
- crema which is created with a Guiness effect and is around 1,5cm thick, but disappears really fast (it might be the coffee beans though as Im using some Saeco beans for testing, which smell like fish and are probably old):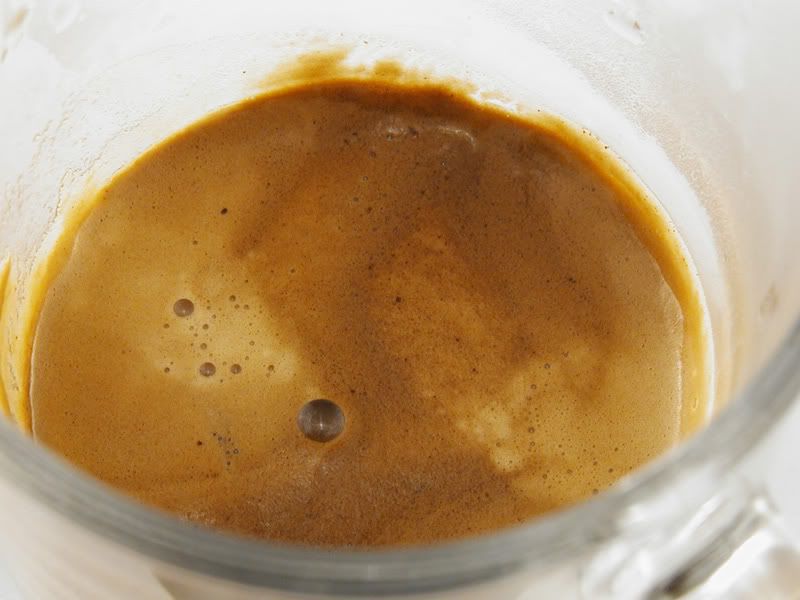 and a side shot:
and heres how the coffee cake looks like after the shot:
I also did a couple of shots of the pour:
- first few seconds, the coffee is really dark in the beggining and starts to flow after around 5-7 seconds after I hit the On switch, the pour is thin at the beggining, but gets quite thick afterwards:
- in the middle of the pour, its quite thick, but still brownish: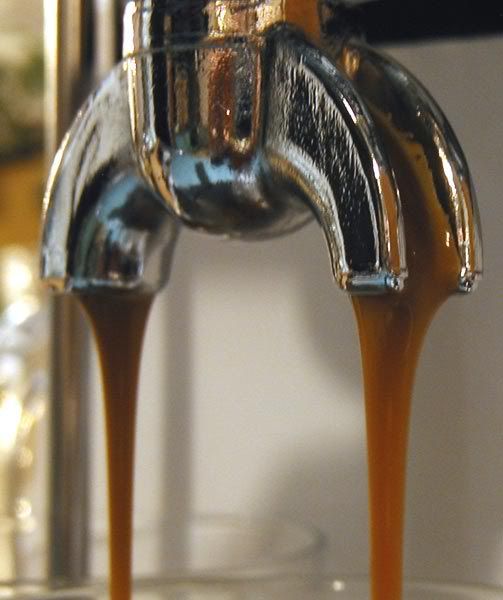 - the last seconds, premature blonding accures around the 20th second, which is bad I think, besides you can see that by the two lighter spots on the surface of crema on the first picture; the "tails" start to "dance", the pour isnt solid anymore: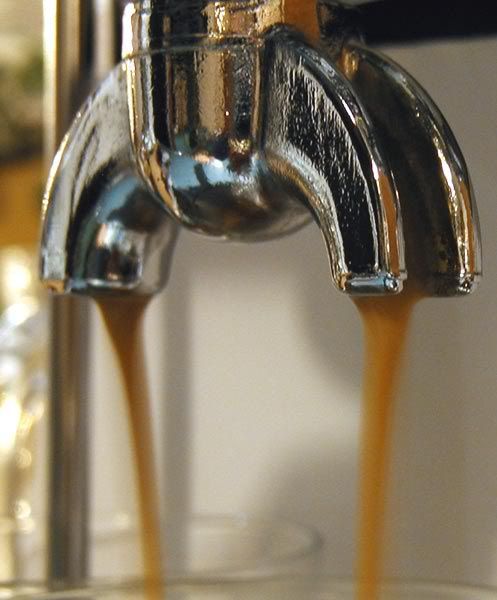 Usually the pour is also dripping, which is probably caused by chanelling, right?
I wanted to ask you what you think of this, how does the crema look, and how it should look if done properly? If you could give me some tips on how to improve my shots I would be really grateful
Below I listed some of the probable reasons of my bad shots:
- the lack of a good tamper, I already ordered a TORR tamper and a naked PF. Right now Im using a scratchbuild tamper, based on the Gaggia plastic one, but its not very good
- old beans/bad beans, Im using Saeco coffee, which probably isnt fresh roasted. I grind it on my MDF on setting 4. This setting and really hard tamping (with all my body weight) gives blonding around the 20th second. So I changed the setting to 3 and tried it out. Sadly it turned out to be too fine for my Gaggia, as the whole pour was drippy and I only got 30ml from a double basket.
- uneven distribution, which shouldnt really appear, cause I tend to grind evenly into the PF and than I tap lightly in the counter to settle the coffee, after that its a mix of NSEW and Stockfleths move and I level the coffee. Tamp lightly, check if its even and than tamp again hard.
It would be great if you could help me out here a bit. Maybe say what Im doing wrong or what to change/improve. I know there are a lot of Classic users here, so if you are reading this, please reply if you had similar problems
Ok back to practice and thanks in advance for any help. (and thanks for reading
)
Take care,
dsc.