This is a US friends machine: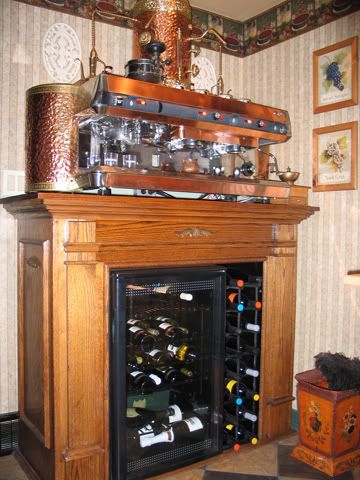 He wrote:
My little coffee maker is number one of ten made. Hand made in Spain by Archile Gaggia. Of the ten it is the only one still operational. It is a full three bay commercial machine. Two standard bays and one autopress (think French press). When we lived in Charlotte, NC, the Gaggia family flew two folks out from Spain to rebuild the machine in trade for us allowing them to take pictures of it for their catalogue. I couldnt say no to a deal like that! Its always a hit during parties. If folks want a drink from it they have to make their own. Naturally that means I have to teach folks how to run it.  
For a little more history, it was made on contrat for the flagship Olive Garden store here in Bellevue, WA. They used it for one year and then stored it during a remodel. Upon being reinstalled a newbie fired it up without filling the boiler. All of the seals blew and the heating elements melted! We found it at a restaurant liquidation house roughly 9 years ago. It took about 3 months to rebuild it the first time, and two days for the Gaggia folks to rebuild it the second time.