I know a lot of owners around here aren't into modifying/ tweaking their own machines, but pulling apart electro-mechanical devices is day to day business for me.
Now, being one who likes efficiency, I've already insulated the boilers on my machine which has seen a noticeable decrease in boiler element "on" times, and required some adjustments to the PID controller to suit.
My next tweak that i'm considering is the addition of a pre-heater for the brew boiler.
I read a review another dual boiler machine (Alex Duetto I believe) and it incorporates a brew-water preheater HX into the steam boiler, then it's off to it's own boiler to be heated fully.
I live in Hobart, and my kitchen can easily drop to 10 degrees or colder overnight. As such, so does the water in the reservoir on my machine.
My plan is to use the steam boiler and a couple of laps of copper piping as the heat-exchanger to pre-heat the water being fed into the brew boiler.
As you can see by the image below, the pump outlet fitting is directly in line with a nice small gap between the steam boiler (right rear) and the reservoir/ case.
Removing the silicone piping and using some 1/8" copper tubing and pressure fittings at that point, have 2 or 3 laps around the steam boiler, then back into the existing silicone tunbing to feed the brew boiler with pre-heated water should be sufficient to raise the incoming temps, shorten re-cycle time, and reduce temperature drops when pulling a shot.
LELIT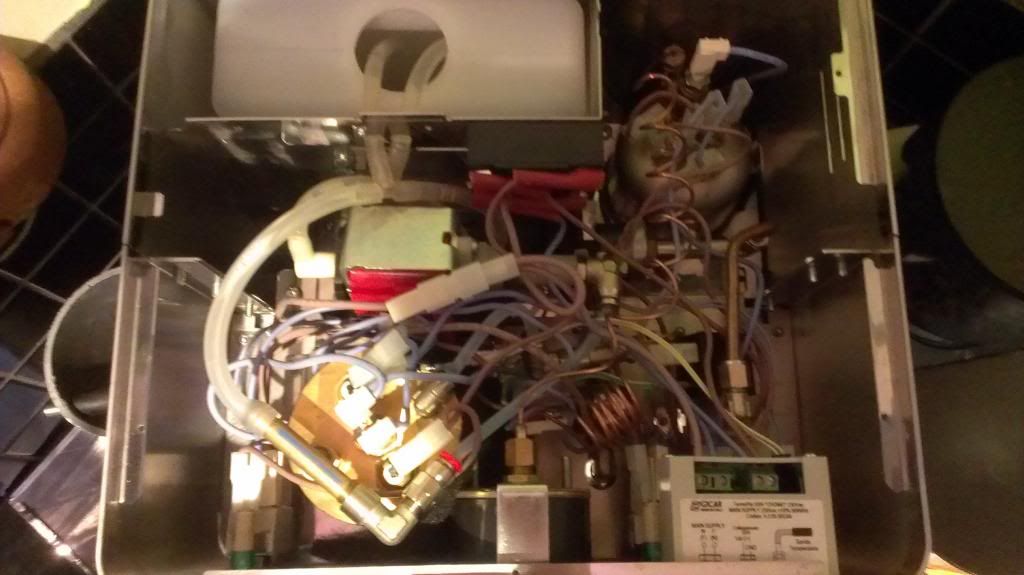 And here you can see the Alex with the feed between the boilers