After the initial success of the breadmaker roaster things were just a littlel too well.
Naturally something had to give and that something was the paddle coming lose and working its way up off the spindle
aka http://coffeesnobs.com.au/YaBB.pl?num=1158482597 and things were looking gloomy
.
After some fine suggestions from CSers I started by shortening the length of the paddle from
to this, and grinding the teflon off as well.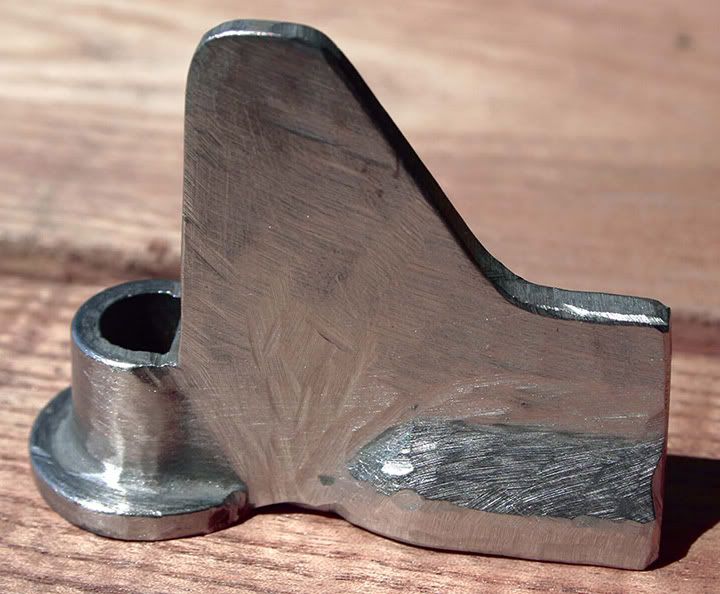 This stopped the problem of the beans jamming between the paddle and the side of the bowl.
However the paddle still worked itself up off the spindle. This might not have happened had I not been attempting a 400 gram roast, my largest so far. Dry test runs using only 200 grams didnt reveal this problem and the paddle stayed on. But with 400 grams the paddle worked its way off.
BTW when I brought the brass shim to tie through the spindle (as below) the guy in the shop said his mothers Breadmakers paddle worked itself off when she was making bread and he fixed it by drilling a few holes and putting a blind screw or something into it. So its not just a problem associated with roasting coffee in Breadmakers.
So a hole was drilled in the spindle near the top, just above where the paddle sits. This was no easy task for me I tell you! A broken drill bit later and a brass shim was painstakingly inserted and tied to secure the paddle in place as thus:-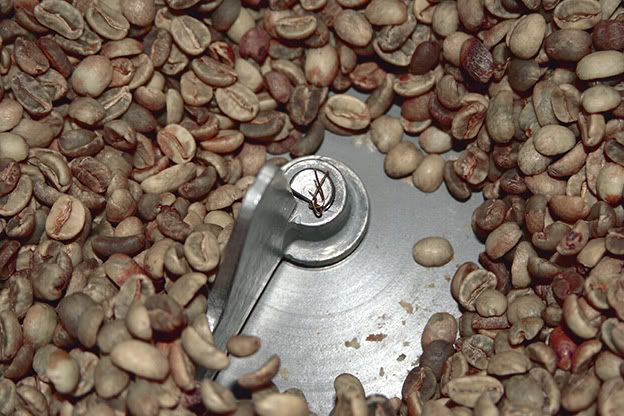 This worked!! The paddle did come up slightly but not enough to cause any problems. So the roast began and went swimmingly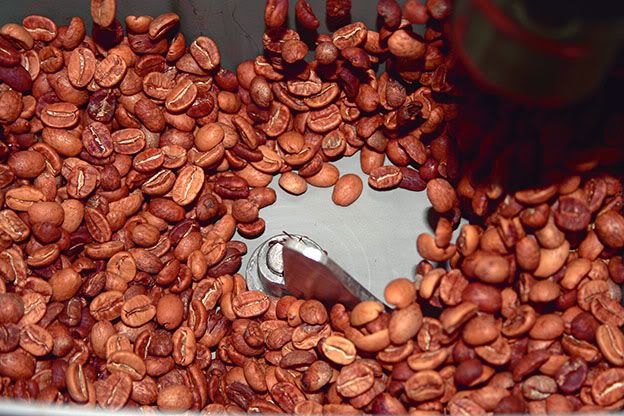 No jamming this roast now ;D
After 20 odd minutes (couldve stopped sooner but it was a 3 bean pre blend and just kept popping away) I ejected and cooled.
A few beans were caught under the paddle on ejection but this was a proximity thing really and they were easily removed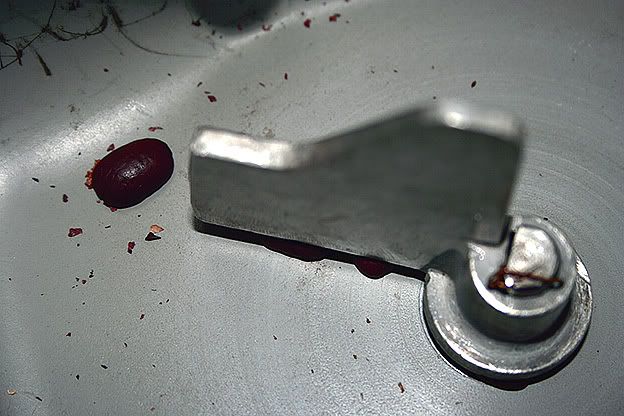 A day later the roast was test tasted and all was well again in Breadmaker Roasting Paradise :-)
BTW a moth flew into the beans at about the 12 minute mark but was quickly vapourised by the HG :-/
The blend for what its worth is of
Mexican Chulita 200 grams
Indonesian Arabica Linton 100 grams
Timor Organic 100 grams
and a moth for good measure.
Belinda :