Well after participating in some discussion re the differences between fluid bed (which the Corretto is - sort of) and drum roasters...... and having the subject raised on the CS visit to 5 Senses-
I decided to make a drum roaster.....
First take one quite old rotisserie built some years ago by Hotpoint. Picked it up second hand for very little. It is a small unit but very solid (which I figured would be good for heat retention). It has a grill opening at the top.... unusual but hey, just block it up!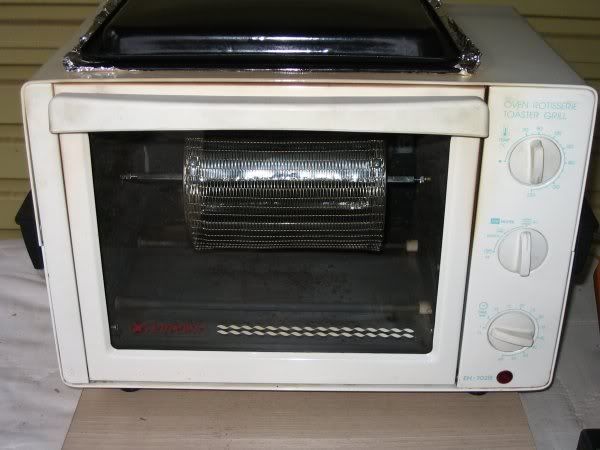 It had two 300W elements on the bottom and two 450W ones on the top..... now heat is needed where the beans are - so swapped them over. Tried the oven - the thermostat switched on and off with a large gap between the functions..... and the oven couldnt make 250C.... MMMMM not hot enough.... so thermostat had to go.
It was replaced with my original "mock up" triac controller so the elements were always on... Tried again and bingo- I could easily get the oven to 260C+ and maintain it..... Looking good. I had the TC probe inserted through a hole in the back just slightly below the level of the rotisserie to monitor the temperature.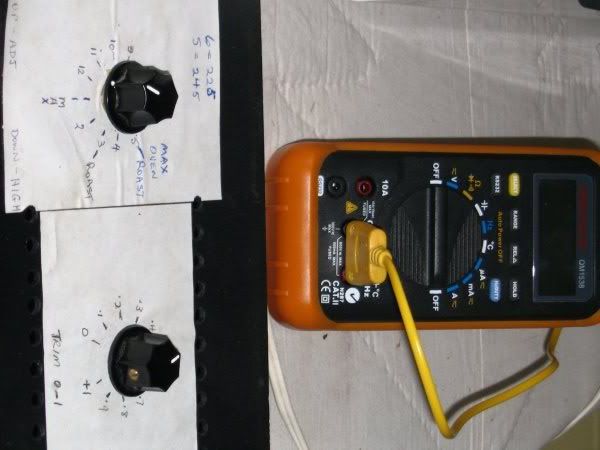 The "control box" is a bit rough... but for a prototype
The left hand knob gives 12 levels of heating.... the right hand one is continuously variable between the steps.
Now for the drum.... I scored a Nescafe tin and did the normal cut and fold forming 6 internal stirrers (the motor only rotates at 2.5RPM).... and covered the outside with Stainless Steel mesh.... just held in place with PK screws :
- but this will be refined later -mark II version
.
In this photo you can see the TC probe on the right hand side (the tip is held by a saddle clamp which it is fed through to hold accurately in position - right near the end of the drum so it almost touches.....
First roast:
Preheated the oven, set the temp at 240C, loaded 250gm of Monsooned Peaberry into the drum and let her rip!
First crack was at 18 minutes with roast pulled 10 seconds into rolling second just before 20 minutes..... the roast looks good and the time is very similar to what I aim for from the Corretto except FC to SC is a little short. Beans were cooled by taking the rotisserie out and rotating in front of a fan..... and I could touch the drum after about 10 seconds.
The beans look good... just have to wait a few days to taste.... should be an interesting comparison as I did a similar duration Corretto roast of the same beans just before this one.
There is still some playing with temps etc.... but looks very promising.
Will let you know how the tasting goes.