========== edit by Andy ============
Please Note:
Adam Murdoch from Energy Safe Victoria has just advised me in an email that:
"The modifications made to these bread makers may make the piece of equipment no longer comply with the relevant Australian standard AS/NZS 60335.2.9:2002"

He also said that these are
"possibly dangerous modifications a bread maker"
I have asked Adam on behalf Energy Safe Victoria to provide us with an official warning paragragh to post in the top of the thread, here it is, please read and heed.

Energy Safe Victoria (ESV) is the Victorian electricity safety regulator responsible for, amongst other things, the safety of electrical appliances.

The content of this site is very concerning and whilst ESV cannot prevent individuals from modifying electrical equipment we must warn of the risks.

No warranty in this event of failure is minor when compared to the risk of electrical shock, fire and the real possibility that should a fire occur, you may not be covered by insurance due to the cause was non-compliant and unsafe equipment.

Be warned.
===========================
Hi,
As promised, here is a quick overview of how to rewire a Panasonic SD-200.  The problem with this bread maker is that it doesnt really have a convenient "start spinning now" option.  But thats ok, because its really easy to bypass the circuitry.  Of cause, Im going to give the usual, "If you dont wanna look like Einstein - Dont do this without an electrician friend nearby" warning. But otherwise, its quite simple.
Here is a wiring diagram of what you need to do.  The switch is optional, but if you don't include it, then you will need to turn it off and on at the power point.

So what we did was:
1. Pull the Neutral (negative) wire (white with orange stripes) off the circuit board (as shown in the photo below).
2. Solder it to one side of a switch.
3. Solder a wire from the other side of the switch.
4. The other end of this wire needs to be soldered, on the reverse of the circuit board, to one end of the starting capacitor (as shown below).
5. You can then remove everything else (eg. the control board and elements, along with their wires).
6. The switch will now simply turn the motor on and off.
NB. You could actually just loosen the solder on the starting capacitor, take it off the board, and solder it as per the diagram above. We didn't do this because having the whole board carrier and stuff seems neater and safer.
You could also leave the entire breadmaker wired in its original form, and just add a Neutral wire (with switch) as above.  This should, in theory as I havent tried it, allow the BM to function as normal, with a manual override switch for the motor.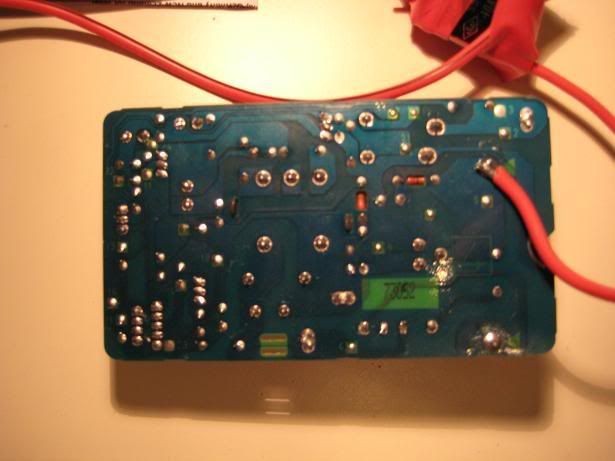 Any questions?
- Humphrey & Stu