Hi guys, its been a long time since I have had anything useful to say but I have continued to lurk. Now that I am no longer working in West End where there were heaps of small roasteries, I have decided to bite the bullet and have a go at roasting my own beans. Geez, the local Zarraffas charged me 58 cents a shot for roasted beans this morning, I might as well use a nespresso!
Anyway, after a bit of a dig on Gumtree, I picked up a Breville BBM200 breadmaker for $40 after lunch and decided I better replace my ailing $20 heat gun because it seems to cut out from overheating every time I use it. I detoured through Bunnings on the way home and bought a Bosch 630 variable temp HG for $99.
I fired up the BM when I got home and found I would have to wait about 30 minutes before getting an 18 minute run of the mixer blade. It seemed a bit silly not to preserve the breadmaking capability, so after some exploratory surgery, I went off to Jaycar and bought a $5 DPDT switch and before long, I had it wired in.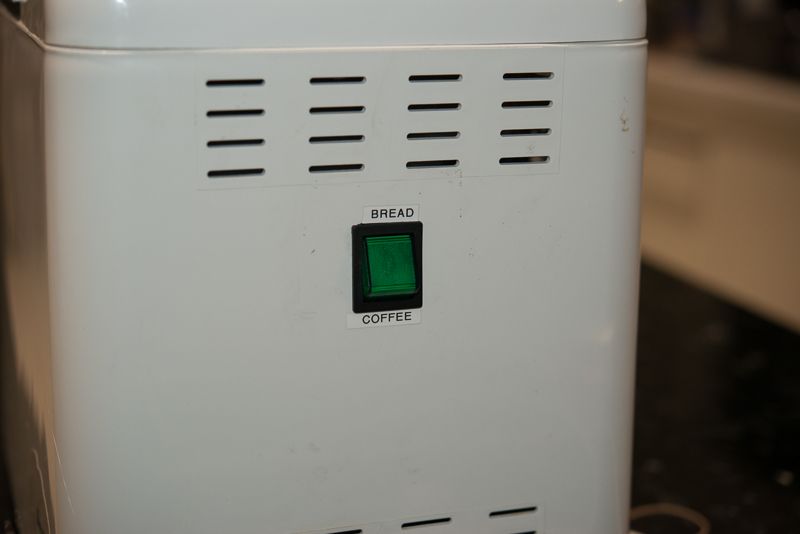 It was pretty simple really. Cut the wires going to the motor, put the wires going to the motor on the switch centre terminals, and the other end of the cut wires at one end of the switch and then ran the mains power to the other end. There as even a nice little terminal block to connect my new motor power circuit to! Nothing has changed with the switch in bread mode but in coffee mode, it stirs continuously.
I did a bit of reading on here about covers for a Corretto which I found interesting and after a dig in the shed, I found a 12mm piece of aluminium offcut.
It is a perfect length and there is a 20mm gap to let the hot air and chaff escape. I figure that if I bore a hole in this, the HG will be self supporting. I should also be able to pick up some 1/4" (6.35mm) aluminum tube tomorrow and thought I might also be able to run a probe from my multimeter down through this tube to monitor the temeperature. The wall thickness will be 0.9mm. Next size up is 10mm and I can get it in 1.0,1.2 or 1.6 wall thickness.
It looks like I still have a bit of work to do but I am off to find some green beans in the morning.
So there is a plan, here are the questions:
1. do you think the gap for exhaust is big enough?
2. Should I put a shroud over the exhaust gap so stuff goes out sideways ? (I have some 1.2m ally sheet here that will do the trick if necessary)
3. Where should I locate the HG? In the corner or centrally?
4. How high should the temp probe be off the bottom and do you think the probe from above will work? The tube has 0.9mm side walls so it should be reasonably strong.
Any help and advice will be much appreciated: